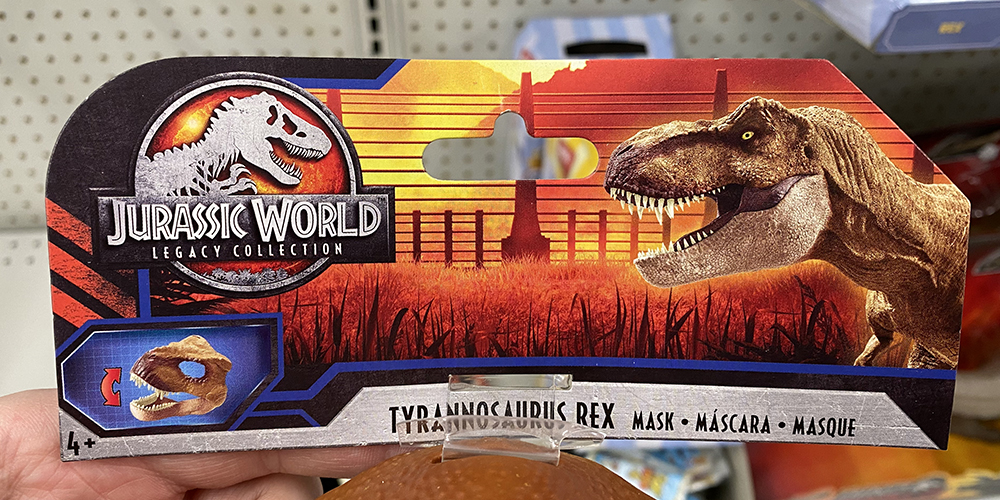 New Mattel Jurassic World toys continue to saturate the market as the latest Primal Attack releases find their way onto more store shelves in our latest toy sighting recap. We're also treated to a new wave of Mini Dinosaurs including a new "metallic" version to track down, plus a surprise 2020 Legacy Collection surfaces that asks more questions than it answers. Read on for more Jurassic toy goodness!
Primal Attack Savage Strike, Massive Biters and More Hit Target, Walmart & More
While we're barely a month into a new year of Mattel's latest Jurassic World toyline, it seems many stores here in the US are already carrying Primal Attack figures in impressive quantities. Target and Walmart are leading the pack, with sightings of the full Sound Strike assortment at both stores. The Massive Biter figures and Control 'n Conquer Carnotaurus are also showing up in most Target stores, along with a surprise Primal Attack re-package of last year's popular Destroy 'n Devour Indominus Rex. We can also confirm that the regional retailer Meijer will also be carrying the Carnotaurus as well as the 2020 redeco of the Extreme Chompin' Rex. Missing still is the newest Savage Strike wave, however this is most likely due to most stores still being saddled with shelffuls of last year's Dino Rivals Savage Strike figures. All the same, the fact that this many new releases have already simultaneously found their way into stores nationwide (especially this early in the year) is a good sign for domestic distribution in 2020. Image Credit: @jurassic_collector and Suba G. via Paddock 9 Collecting
New 2020 Mini Dinos Found At Target, Including Metallic Spinosaurus
Mattel's ultra-collectable Mini Dinos will indeed continue with new waves in 2020, complete with Primal Attack branding on every blind bag. While we've already been teased with a peek at some of these upcoming releases, we now know the first wave will include several repainted molds including a a metallic version fo the franchise favorite Spinosaurus. It remains to be seen if this year will bring all-new molds, not just repaints, to the Mini Dino assortment. At the very least, popular minis like Brachiosaurus, Carnotaurus and more will be making a repainted return. And yes, we have the code for that Spinosaurus: 3029SD24. Happy hunting! Image Credit: @prehistoric_mole and Bruce via Paddock 9 Collecting
12-Inch "Basic" Spinosaurus and Proceratosaurus Figures Now on Amazon
It seems for most of their existence, these 12-inch Jurassic World Basic figures from Mattel have flown under the radar or most collectors. However these latest releases will undoubtedly change that, as the much-coveted Spinosaurus (complete with it's Legacy Collection paint deco) has now been added to this roster of budget-friendly dinosaurs. Joining it is Proceratosaurus, itself a repaint of an earlier 12-inch version. These larger, less-articulated figures haven't always been the most exciting toys to come out of Mattel, but popular designs like Spinosaurus have got us excited for the future of the 12-inch line. Both figures are now available for under $10 on Amazon at the links below:
Jurassic World Basic Value Spinosaurus
Jurassic World Basic Value Proceratosaurus
New Legacy Collection-branded Masks Found in Meijer Stores
Our last toy sighting is by far one of the more curious developments in Jurassic collecting as of late. We stumbled across these Jurassic World Legacy Collection Masks in a Meijer store outside of Chicago and were immediately intrigued by the hybrid Primal Attack / Legacy Collection packaging design and recolored renders of Rexy and Blue. Before we dive into that interesting artwork, let's first talk about Legacy Collection's previously limited availability.
Here in the US, Mattel's Legacy Collection is supposed to be a Target-exclusive toyline. At least it was last time we checked, so finding these masks in another store may be a sign of that exclusivity ending. Of course there's always the possibility that the masks are some sort of one-off release or fluke, and this specific release doesn't technically break the rules of whatever agreement Target maintains with Mattel over the Legacy Collection. Either way, it's a notable departure from the usually rigid exclusivity deals we've seen with Jurassic World toys since Mattel took the reins.
Now, back to that packaging design. The combination of both the Legacy Collection logo and the 2020 Primal Attack artwork indicates that these masks are indeed new releases and not holdouts from a previous year. Furthermore, that means Mattel is still deliberately creating new Legacy Collection branding for 2020, even when there are no mainline action figure releases that we're aware of. Developing this artwork seems like a lot of trouble to go through for a few masks, so is more Legacy Collection on the way? And will it remain exclusive to Target? Stay tuned to Collect Jurassic for more updates on the future of Mattel's Legacy Collection.