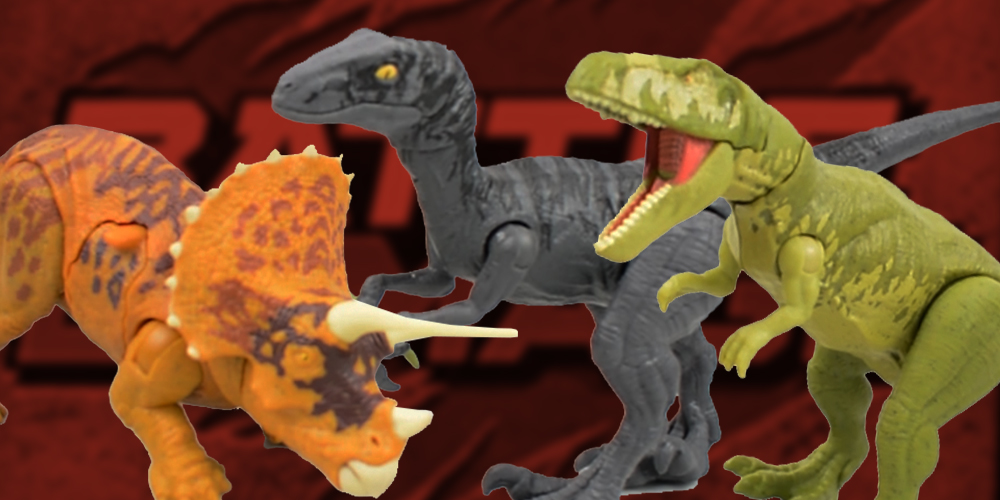 I think it's safe to say that the 'Battle Damage' sub-line has been one of the more divisive offerings in Mattel's vast array of different Jurassic World toy offerings. Indeed, the Jurassic World Battle Damage line got off to a rocky start in many regards – with several of the different products becoming incredibly hard for collectors to track down a short time into their lifespan. Figures like the Plesiosaurus and Proceratosaurus quickly became very difficult for fans to get their hands on – leading to the creation of some of the most highly sought-after figures in the line.
With this said, the Jurassic World Battle Damage line seems to be taking a turn for the better in 2020 – with three highly-detailed new additions to the assortment under the 'Primal Attack' branding and art direction. Today we are going to breakdown all three of these figures in all their glory. Before we jump in, it is worth nothing that at the time of writing this, these figures have only been spotted in the UK – at the ASDA chain of supermarket stores. They retail for £9.97 – and hopefully will see debuts at similar outlets internationally in the coming weeks. With that information out of the way, let's breakdown the first figure – the Velociraptor!
Up first we have this stunning rendition of the Velociraptor – and I must admit that this is a figure which I really adore. This figure is a repaint of the previously existing Battle Damage Velociraptor introduced with both Blue and the Wave 2 Velociraptor. This figure feels vastly distinctive from these two characters, however, as it comes in a stunning two-tone black colour which looks incredible. I really, really appreciate how this figure feels unique compared to the vast assortment of Velociraptors which we have seen in the various lines and assortments from Mattel thus far. When you have released such a volume of figures, it can be very hard to make a repaint feel fresh and new – but Mattel have managed to achieve it here. Apart from some slightly sloppy eye paint I have no complaints with this figure, and am incredibly happy with it. I'd even go as far as to say this may be one of my favourite figures which Mattel have released to date!
Up next, we have what I believed was going to be the weakest figure from this assortment, but one which surprised me – the Triceratops! Initially, I had planned to only pick up the Gasosaurus and the Velociraptor, but when I saw this figure I had to own it. A repaint of the Wave One Battle Damage Triceratops sculpt, this figure uses a nice mustard-like colour which is not too dis-similar from the colour choice which Mattel went with on the Dino Rivals variant of the Suchomimus. I really love how this character compliments the sculpt of the Triceratops in this variation. Combine this with the nice two-tone brown highlights which Mattel chose for this figure, and you have a great looking rendition of this beloved herbivore which stands out from the other offerings currently out there. I also appreciate how the dino damage is slightly bigger on the Triceratops – as I can envision some interesting toy photographs with this dino being attacked by carnivores!
Lastly, but certainly not least, we have the only brand-new dinosaur to join the Mattel line-up in this wave of three figures – the Gasosaurus. The Gasosaurus is clearly a dinosaur from the Tyrannosaurus family – and although I don't know much about this dinosaur, it is interesting seeing a dinosaur with such clear cut and distinctive carnivorous styling at such a small scale. Everything on this figure feels well-proportioned – and I think that the colour choices here look great and unique overall. Unlike many of the newer moulds we see as well, this figure stands well – something which I am always grateful for! I think this will certainly be the most popular figure from this wave, purely because it is something new and not a repaint like the other figures in this wave.
Overall, the latest wave of Battle Damage figures from Mattel is a home run. I think the colour choices and sculpts which Mattel went for here are perfect – and each figure feels like it really stands on its own merits. I am particularly impressed with just how much I fell in love with the repaints here – especially considering many of us have felt the repaint fatigue in recent months. This wave of Jurassic World Battle Damage figures highlights perfectly how smart repaints can still be a massive success – and so I hope for much more like this wave from Mattel soon.