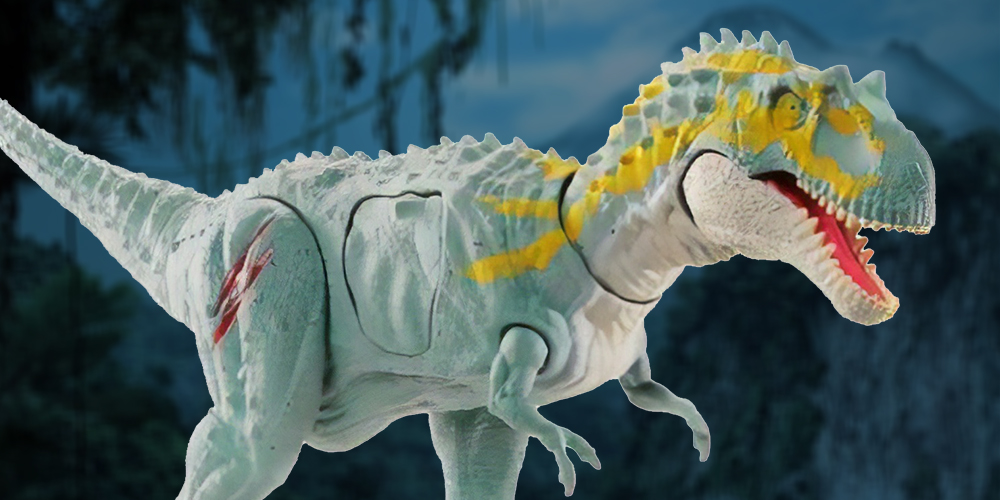 News for fans of Mattel's Jurassic World line continues to come thick and fast at the moment – with the recent uncovering of a BRAND NEW paint scheme for the Battle-Damaged Albertosaurus, a dinosaur which first debuted in 2019 as a retail exclusive to Walmart in the United States.
The new version of the Battle-Damaged Albertosaurus uses a vastly different colour scheme to the last rendition of this dinosaur – utilising what appears to be a primarily teal colour for the main body of the dinosaur. This is complimented nicely by a white under-body and jaw paint-job, not too dis-similar from the choice of secondary colours we saw on the last version of this dinosaur. This dinosaur is then given further paint applications to make it more unique and diverse from it's 2019 counterpart, with a new pattern applied to it's head to add some distinctive new patterning to this dinosaur. Whilst I personally think that this looks like a nice way to add some distinctive and colourful flair to this dinosaur, I know that it has been met with a mixed reception within the wider community – with some unsure about the mustard colours chosen for the accents on this particular figure, whilst others were excited to see a new dinosaur variant which is vibrant in both colour and tone.
We are hopeful that the introduction of a second Battle-Damaged Albertosaurus means that Walmart may continue to carry the Battle Damaged line in 2020. Dinosaurs like the Plesiosaurus became pretty hard for Jurassic fans to get their hands on in the latter parts of 2019 and beyond – so we are hopeful that the Albertosaurus coming back as a 'flagship' Battle Damaged item may once again increase the presence of this sub-line in stores.
That's all from us today – but with Toyfair slowly creeping up on the horizon, you can expect lots more Jurassic news in the coming weeks and months right here on Collect Jurassic!
And, if you want to hear even more about the brand-new version of the Albertosaurus, then you can check out Tim's breakdown video by clicking here.