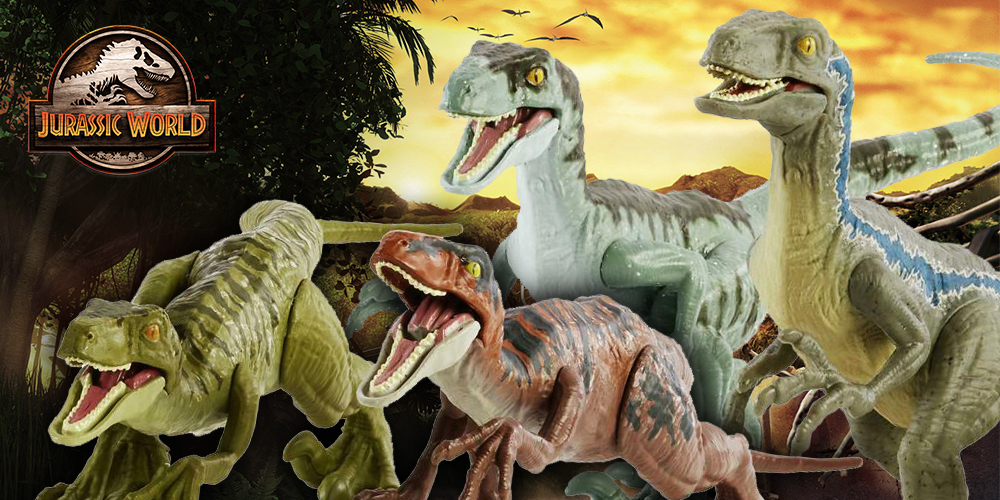 Our first looks at the new Dino Escape subline have only just begun, with Tim taking a look at the Stomp N' Escape T-Rex recently, and now we have a look at another exciting product which will be released under the co-branded Dino Escape and Camp Cretaceous line – the upcoming retail exclusive 'Raptor Squad' pack!
The images in this article come courtesy of Jurassic Bap, who has already published a great review which you can check out at the end of this article.
The Raptor Squad pack includes all four members of the iconic Raptor Squad who we first saw in Jurassic World – with Blue, Charlie, Delta and Echo all portrayed with the designs which they featured in the first series of Netflix's animated Camp Cretaceous. The four characters included all reuse Attack Pack moulds for the most part – although they are complimented by some additional paint applications which more traditional Attack Pack figures would not usually see.
The figures are a little bit of a mixed bag when it comes to accuracy. Blue and Charlie feel relatively spot on – with some great design work and decos applied to both of them, including a more refined stripe on Blue which is highlighted in Bap's review. Delta and Echo still feature the same level of in-depth detailing – with some wonderful patterns applied to them – but their colours feel slightly more unauthentic when compared to the source material we are used to. Whilst they still have a lot of detail packed in and some really gorgeous paint applications, these are unlikely to be the 'definitive' Raptor Squad members that many fans were hoping for.
With that said, we are incredibly excited to get our hands on this set when it releases – and cannot wait to see what else may be in store for us. We would guess that this set will be a Target exclusive in the US, but are unsure about wider availability for it just yet – although we would hope that international outlets like Smyths may pick this one up, too. Let us know your thoughts on the set in the comments down below, and make sure to also check out Bap's video review, linked below too.