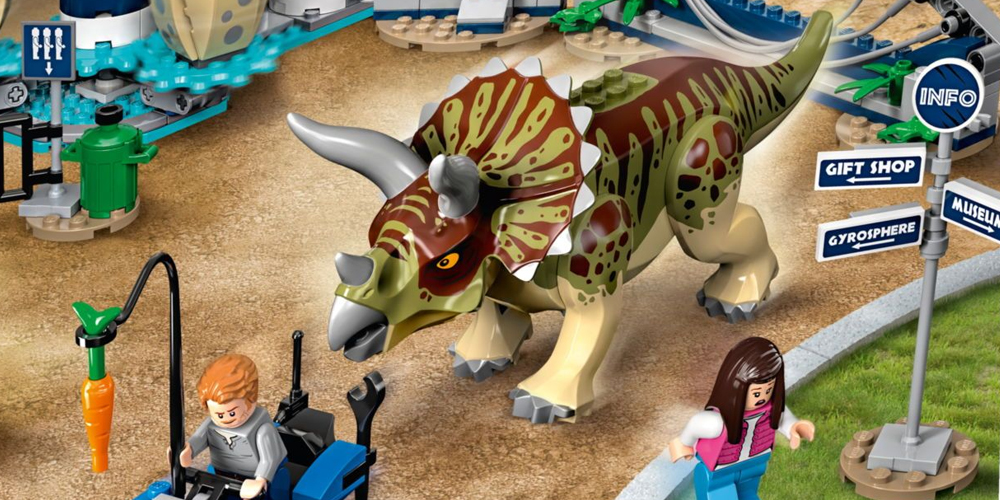 This time last year we were getting excited for the release of Jurassic World Fallen Kingdom – with the cinematic release of the Jurassic World sequel just around the corner, and marketing for the franchise once again in full swing.
This year, we don't have a film release; but companies like Mattel and now LEGO continue to give us new things to look forward to in what has to be the biggest and best 'off' year for the Jurassic franchise yet. LEGO Jurassic World The Legend of Isla Nublar hits later this year – and today, thanks to The Brothers Brick, we have a slew of new HD images to sink our teeth into.
Now I am quite conscious that I have shared many thoughts on these products already – and I really do think these photos speak for themselves, so I am going to highlight some of the key factors in these sets but, ultimately, let you enjoy these beautiful sets for yourselves!
75934 Dilophosaurus on the Loose | 168 pieces | $19.99 USD
This set certainly is a step-up from last year's $20 – the Pteranodon Capture. Here we get a beautiful store-front area with lots of great graphics (including an Indominus Rex Coming Soon sign!) which Jurassic World LEGO fans are sure to love – especially if they are planning their own builds soon! Here we also get a FANTASTIC torso with the Jurassic World T-Shirt printed underneath a red hoody, and a useful park worker torso which I am sure many fans will appreciate. Finally, we also get that beautiful brand new Dilophosaurus mould – which is much more in scale to minifigures. Fingers crossed we see raptors in this size soon!
75935 Baryonyx Face-Off: The Treasure Hunt | 434 pieces | $59.99 USD
In the Baryonyx set the jewel of the set is in the name – the Baryonyx. Whilst it is unfortunate this dinosaur does re-use the Indoraptor body and features an annoyingly-inaccurate sickle claw, the dinosaur itself does look incredibly nice. I am also very excited here for Danny and Sinjin – who seem to include some useful pieces. Sinjin has a torso which could very easily be used to create a character like Dieter Stark! The jeep here also features a nice colour scheme nod to The Lost World – something which I hope we may see explored further in future legacy sets.
75937 Triceratops Rampage | 447 pieces | $59.99 USD
As with the Baryonyx set here, the big draw here is the Triceratops – which looks beautiful in its brand-new colour scheme. I do, however, feel that the minifigures are also particular attractions here – with both Owen Grady and Simon Masrani getting brand new versions here which look fantastic. I wanted a figure of Owen in his white Henley shirt back during the Jurassic World sets to add more variety – so it is great seeing that here. The builds here are also incredibly useful for anyone looking to recreate their very own Jurassic World in a display – and I think some of the graphics work here, again, really shines. The info-board makes great reference to the gift shop from the smallest set and the earlier Gyrosphere sets, and the Trike display board is a beautiful additional detail. All in all, I think this will be the most popular set from the line-up!
75938 T. rex vs Dino-Mech Battle | 716 pieces | $89.99 USD
Lastly, we have arguably the most divisive set in the wave. Here we get that great new version of Owen – and a very welcome new version of Claire. It's also a great chance for fans who missed out in 2015 to get their hands-on Hoskins. I also LOVE that Danny has printed, dual moulded arms (Meaning the Orange/Flesh tons are cast from plastic, and the Hawaiian pattern is then printed on top) as this torso in general would be great for a custom Nedry. The new T-Rex here looks great, and I ADORE the Baby Raptor squad – who look spot on to their 2015 LEGO counterparts. The volcano is a nice, if simple build, and whilst the mech is a little bit wacky I think kids will love it and I do adore the added value the stickers bring to this – creating some nostalgia.
Overall, this is shaping up to be a great line-up – and one which we can't wait to checkout first-hand here on Collect Jurassic later this year!