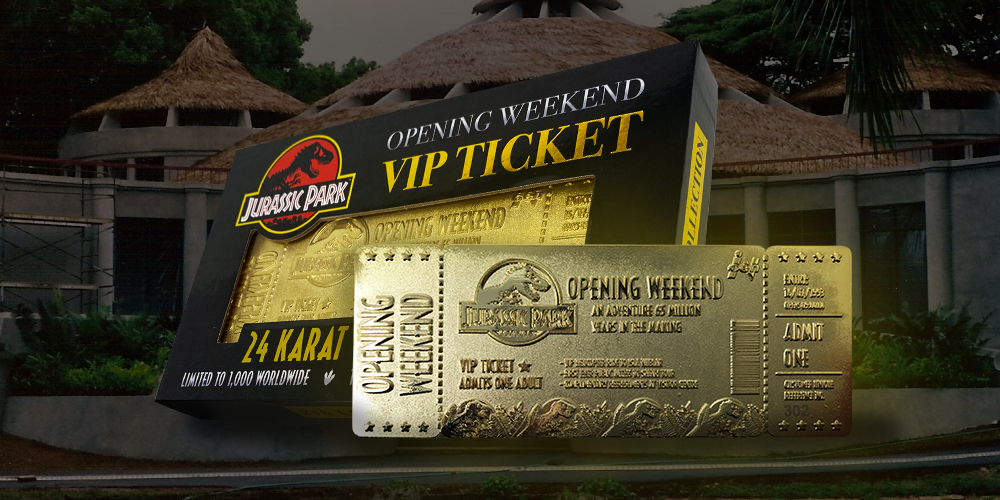 As you all already know, we have a love for the more unique wonderful and collectable elements of Jurassic merchandise at Collect Jurassic. Recently, we have looked in-depth at brand-new retro clothing collection from our friends at Zavvi, and explored some of the new figures which are coming from Mattel.
Today, however, we are excited to explore something which will be a lot harder for Jurassic fans to get their hands on – a unique new item which has just launched from our friends at Fanattik.
Fanattik are well regarded within the fan community already for their beautiful Jurassic Park products. Their Sickle Claw Bottle Opener has proved to be a hit with Jurassic fans across the world, and many of their art prints and pieces of artwork are second to none – providing the real nostalgia hit which many fans of the classic trilogy look for in their merchandise.
Now, they have decided to take this nostalgia a step further – by creating a beautiful fictional rendition of a ticket for Jurassic Park's Opening Weekend on Isla Nublar. This is a beautiful hint at what we could have seen had a functioning park survived the '93 incident – with great details creating an immersive product which really takes us back to the first film. This ticket is unique in its own regard, however, for one very special reason – it is plated in 24 Karat Gold.
The ticket takes inspiration from many of Fanattik's fantastic collectable coins – utilising their prior-existing beautiful metalwork and taking it to a new level. This product is bound to be a hit – with only 1000 of this limited-edition item existing worldwide. It's safe to say that this is going to be a real collectors piece – and one which will be a hit with people who enjoyed the 1993 Blockbuster which started this franchise.
Also stay tuned here on Collect Jurassic, as we will have more photographs of this product once we get it in hand to give you even more of a welcome Jurassic nostalgia hit!