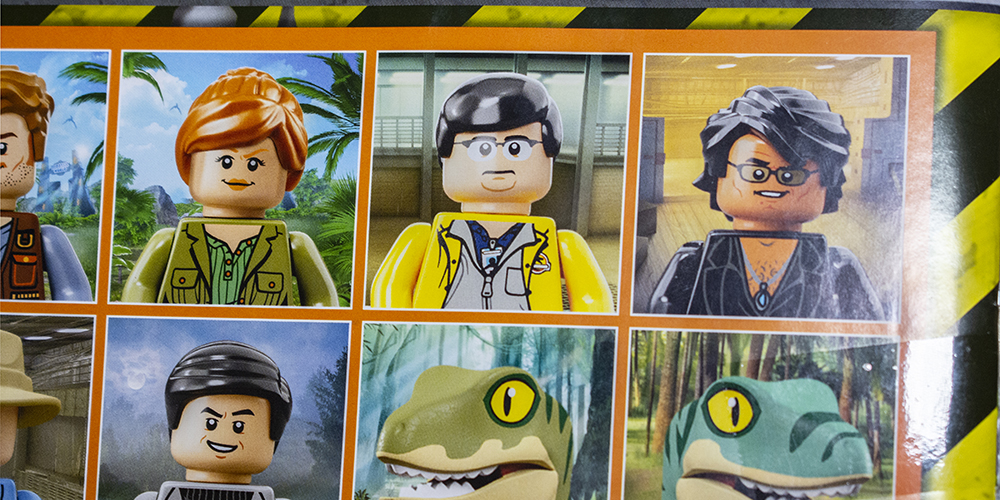 Here on Collect Jurassic, we've been looking ahead recently to some of the exciting LEGO Jurassic World sets and announcements which are just around the corner.
We've already looked at some of the leaks in the past – but now the LEGO Jurassic World Magazine which is making the rounds in the UK appears to be hinting even more firmly at the upcoming LEGO Jurassic Park set which we are all expecting. The back of the magazine features a fun Epic Memory Game which provides us with a fun look at some of the characters from the LEGO Jurassic series – including one Dennis Nedry. Here we get a fantastic look at the upcoming LEGO minifigure of Nedry – which looks to have an incredibly intricately detailed torso, with everything from a Jurassic Park logo to his ID badge. The face here is also a fantastic rendition of Wayne Knight in LEGO format – and I love how the black Han Solo hair piece which has existed for a long time works well for Nedry here.
In the pages of the Comic itself we also get tantalizing teases of a LEGO Spinosaurus – something which I think we all long to add to our LEGO collections. Perhaps, one day, the pages of this comic will become reality – and we will finally have our own LEGO Spinosaurus. But, whilst we wait and long for that, we can at least look forward to the fast approaching Jurassic Park set.
How do you feel about the LEGO rendition of the ever-popular Newman? And have you picked up your own copy of this magazine – complete with the limited-edition Baby Raptor toy? Let us know in the comments below and, as always, stay tuned to Collect Jurassic for the latest and greatest Jurassic toy news, as soon as we have it.