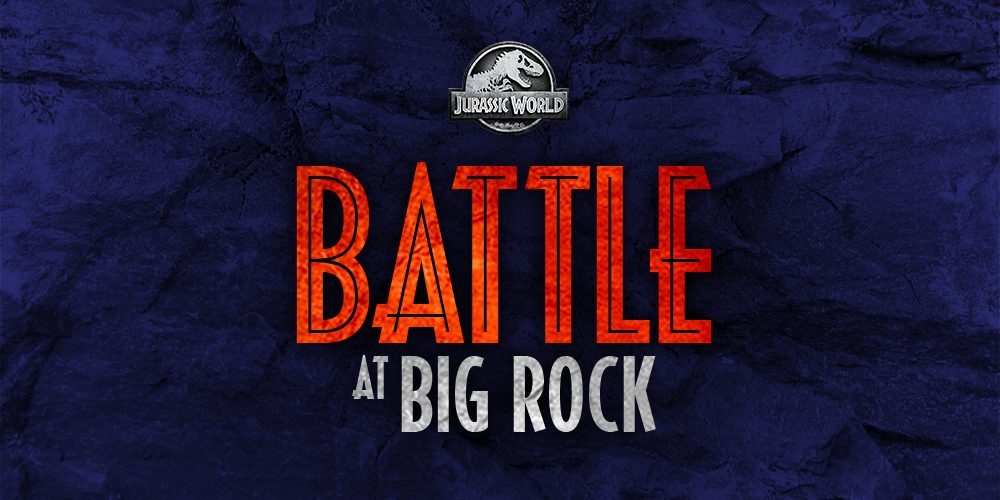 Get ready for the next big thing in the Jurassic franchise: Battle at Big Rock. If you're dying to learn more about this mysterious new title–so are we! First, let's dive into how Jurassic fans first heard about it. Battle at Big Rock's origins lie in one of our favorite subjects here on Collect Jurassic, new toys. Last weekend, West Coast collectors here in the US started to find some surprise releases in their Walmart stores. Dual Attack Allosaurus and Nasutoceratops, two figures that were previously only rumored to be on their way, suddenly began to show up along side the repainted Concavenator we previwed at NY Toy Fair. An even bigger surprise awaited on the toy packaging, in a graphic printed on both figures reading "As Seen in Battle at Big Rock".
Photos provided by @mrclassicjurassic
To date, there has been no formal announcement about Battle at Big Rock, leaving the Jurassic community to endlessly speculate what the title could possibly be. The toys themselves may provide additional clues, with all-new molds for each figure seeming to be particularly signifiant. Mattel's 2019 Dino Rivals toyline has been mostly made up of repaints and only a handful of truly new figures. These newest releases break that formula–even the Allosaurus that could of easily been another repainted or retooled Roarivore version. Nasutoceratops, on the other hand, is completely new to the Jurassic universe and is a somewhat obscure species to create a larger figure for. What does it all mean?
Photos provided by @mrclassicjurassic
The leading theory at this point is that Battle at Big Rock will be some sort of short/mini feature. Whether it's live action or animated, this new Jurassic content is rumored to debut in front of Universal's biggest summer movie: Fast & Furious Presents: Hobbs & Shaw. Allosaurus and Nasutoceratops should play some sort of key role, but any other characters or a possible setting remain a mystery. One thing is for sure: the Jurassic fanbase's anticipation for Battle at Big Rock reaching fever pitch, even if we know nothing about it! Stay tuned to Collect Jurassic here on the website or on Instagram, YouTube, Twitter and Facebook, as more information is expected to hit soon.