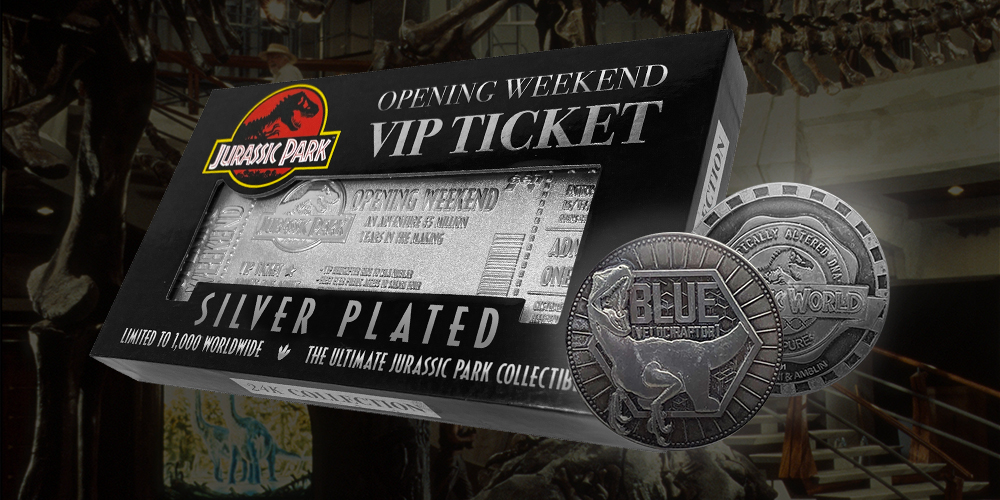 After striking gold (pun intended) with their last Jurassic Park release, Fanattik is back with some brand-new Jurassic Park and Jurassic World collectibles launching today and in limited quantities. With their 24 Karat Gold "Opening Weekend" Jurassic Park ticket out selling in the first day, it's no surprise that the Silver Plated ticket is next to arrive. This time, its joined a separate Jurassic World-related item: a collectible coin embossed with Blue the Velociraptor. Check out the official images and product descriptions below for details.
Jurassic Park .999 Silver Plated "Opening Weekend" Ticket
This metal VIP ticket to the 'opening weekend' of Jurassic Park is .999 silver plated, limited to 5,000 worldwide and individually numbered. Each heavily embossed ticket is supplied with a display stand which means it will look great in any movie fans display cabinet. Originally due to be launched at Christmas, we pulled out all the stops to bring it to you sooner after we saw the 24k gold-plated version spring up online for hundreds of dollars! Shipping in early August.

Jurassic World Blue Coin
We are excited to present the very first Fanattik creation for Jurassic World. This collectible coin is embossed with everyone's favourite velociraptor, Blue, and the words 'genetically altered DNA – 99.7% pure'. Shipping late June
Licensed by Universal Studios
A diameter of 3.8cm
Limited to 9,995 worldwide
Individually numbered
Embossed on both sides
Heavyweight metal coin
Supplied in protective packaging
As with some of their previous Jurassic launches, Fanattik is releasing both the Silver Plated Ticket and Coin in very limited quantities. Head over to their website for grab them for yourself and shop their full Jurassic Park Range