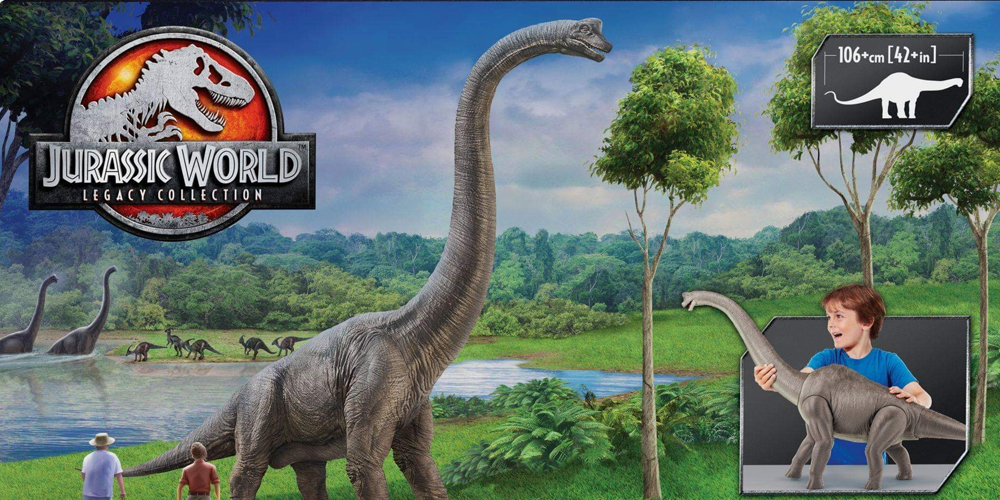 Update: We've added even more official images of the Legacy Collection Brachiosaurus at the bottom of the article!
We won't judge if you hum the Jurassic Park theme while you look through these new images of the upcoming Legacy Collection Brachiosaurus. Britt Shots, formerly of Mattel's Jurassic World brand team, incited near universal fan praise when she teased the figure's packaging in the background of one of her social media posts. Shortly thereafter she added more shots of the full box and of the gargantuan toy itself, and we couldn't be any more in love! Let's start with a quick breakdown of the box art, and then move onto the actual figure.
Perfectly capturing old-school toy packaging vibes, Brachiosaurus's box simply gets it right. A beautiful painting of the iconic Jurassic Park scene is front and center, containing every awesome detail from the movie. Alan Grant, Ellie Sattler and John Hammond are shown in the foreground, standing in awe of the park's biggest attraction. Behind Brachiosaurus we can see the lagoon and it's Parasaurolophus herd against a perfect Nublar sky. Elsewhere on the boxe's design are inset photos of the toy as well as it's impressive measurements. It's worth noting that one of the measurement graphics features an Apatosaurus silhouette, leading some hopeful collectors to wonder what else Mattel is cooking up in their lab… To that end, the inclusion of John Hammond on the box may be a hint of something else as well. Wishful thinking?
Yes, even the box of this marvelous toy is impressive—but let's get back to the figure. In these latest images (both from Britt as well as the 2019 Licenesing Expo) Brachiosaurus is still still looking movie-accurate, still looking to have great posability, and still looking absolutely massive compared to every other Mattel Jurassic toy! Next to Alan Grant, it's clear that this gentle giant really is true to size. It even dwarfs the alright quite large Mosasaurus toy—not an easy feat. A subtle but realistic paint application paired with an impressive level of sculpt detail bring the creature to life unlike any Brachiosaurus toy before it. We've said it before here on Collect Jurassic, but this toy really is a dream come true for so many Jurassic collectors. A dream 25+ years in the making that Mattel seems set to deliver on. Which brings us the question on everyone's mind: availability.
While there's never any guarantee when it comes to product releases of any kind, by all accounts Mattel and their distribution partners seem keen to make Brachiosaurus launch much smoother than that of, say, the Legacy Collection Spinosaurus. This fall when it releases, the Legacy Collection Brachiosaurus is expected to retail for $49.99 and be available exclusively through Target here in the US. As for an international release, we know Mattel planned for one but have no concrete details at this time.
Keep checking collectjurassic.com as well as our YouTube, Instagram, Twitter and Facebook for more updates on the Brachiosaurus as they become available.