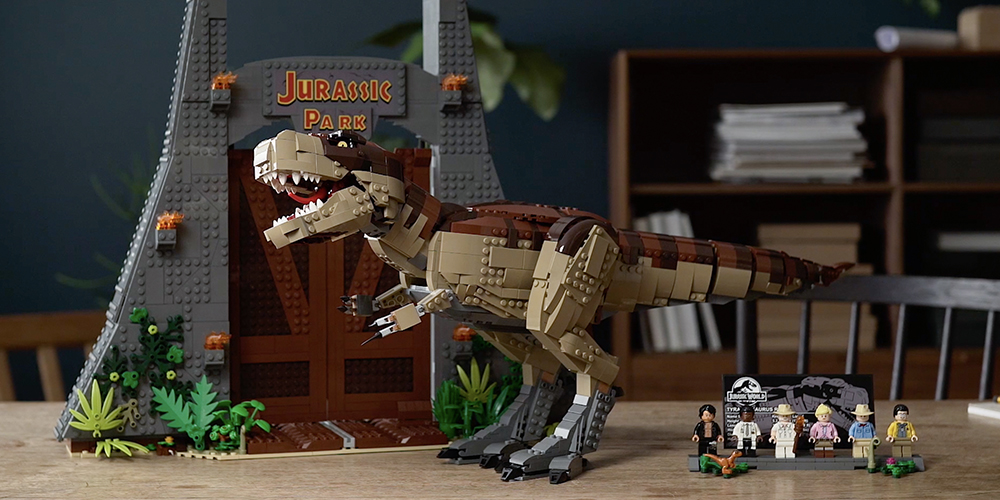 Something BIG is stomping our way from LEGO, and we here on Collect Jurassic couldn't be any more excited to share it with you! In celebration of Jurassic Park's 26th anniversary, a massive "Direct-To-Consumer" set will be releasing very soon featuring one of the most iconic LEGO Jurassic creations to date. Without further ado, we present LEGO Jurassic Park T. rex Rampage 75936 – a set which aims to communicate so many of the key moments from the Jurassic Park franchise in an interesting and incredibly creative manner.
The set focuses on two key builds – a large model of the iconic Jurassic Park T. rex, combined with a model of the ever-imposing Jurassic Park gates, which incorporates several other features into the overall build. The T. rex itself is fully brick-built, and looks to use an assortment of light brown, dark brown, tan, grey and blacks to achieve a close to film-accurate appearance for the Tyrannosaur. There are some incredibly interesting building techniques used here – with the tail able to articulate whilst still looking incredibly smooth and flush with the body of the animal. I really appreciate how LEGO have taken the time to use a lot of curved pieces here to really get this creature feeling as organic as possible. Often, LEGO will do brick-built creatures which don't quite hit the mark – but here the T. rex feels as though it has been well crafted and incredibly well planned. I must admit – I also love the eyes here, which I'm hoping will be printed pieces. This version of the Rex certainly carries the 'show-stopper' esque style which you would expect from one of LEGO's more expensive Direct-To-Consumer sets, so I think the designer has certainly worked hard to reach that standard.
We also get the iconic Jurassic Park gates in this set – and I must admit, after pushing for LEGO brick-built gates for a long time, I am certainly not disappointed with the overall result here. I adore how perfect the shaping is here – catching perfectly the way that the gates begin to slowly pinch in towards the top. The build here looks picture-perfect to the one we see on screen within the 1993 film, and I do appreciate that. Of note is the fantastic use of various vegetation pieces to add some extra texture and detailing around the base of the gate. I love how we have ferns, flowers and bushes growing around the bottom of the build. These then transcend into great vine details which crawl their way up a portion of the gate's structure – adding some nice extra details to the build. I like the two-tone brown colour on the gates themselves here, and the diagonal line mimics perfectly the design we see for these gates within the original film. Of extra note as well is the fact that LEGO even went as far as to include the detail of the Ford Explorer track – alongside two sets of wheel tracks – within the base of the build itself. This is a great piece of detail – and it is one which makes all our team here at Collect Jurassic want a LEGO Ford Explorer even more!
However, the detail doesn't stop there, as on the back of the build we have several small vignettes which are intended to convey key moments from the film – all designed to be minifigure scale. I really appreciate this as I think it is an ingenious use of the space inside the gates – allowing fans to have several of their favourite scenes captured within a single build. At the top of the build, next to a gear mechanism which I assume will be used to add a function where you can open the gates, we have got a small dinosaur nest featuring two cracked eggs. This is a nod to the moment in the first film, where Alan Grant first realises that the dinosaurs have been breeding. Moving down onto the right-side of the build first, we then have three distinct rooms. The first is an incredibly small but cosy toilet – complete with the iconic white unit Gennaro meets his fate on within the first film. Gennaro is not included in this set, so it is interesting to see a diorama piece which would clearly suit him best included here – as it makes me question if perhaps we will see his character pop up in the future should LEGO decide to do anymore Jurassic Park themed sets.
Continuing down this side of the build, we then have Ray Arnolds control station – complete with three different computer screens. Whilst one of the screens appears to have a generic sticker on it showing lines of code, the other two appear to be nicely themed – with one showing the Isla Nublar screen we see on his computer in the film, whilst the other appears to be conveying the security camera feed from the park. This is a nice way of re-capturing a similar feel to the Visitor Centre build we already saw in LEGO Jurassic Park Velociraptor Chase. This is a great build which capture's Arnold's work station well. Then, lastly for this side of the build we have got the emergency bunker's interior – featuring the flip-switch breaker as well as some other nice additions including the black caged-off area where Arnold's arm falls from in the film. I do wonder if there will be a little nod to this in this set. I like how LEGO chose to use their 2×2 Grate piece in a silver colour for the floor here, as it captures the industrial, very rugged aesthetic that the building had in the film perfectly, and pays of very nicely.
If we then switch over to the left-hand side of the build, we have three more iconic Jurassic Park scenes immortalised in the back of the gate. Filling the smallest slot (like the Toilet), we have the Barbasol Can buried in a mud slide from where Nedry dropped it. There is a small clip piece sticking out here – so I wonder if part of this build will be removable to 'reveal' the can in its entirety. Whilst we can't tell for certain, it doesn't look like the can will be printed – which is unfortunate as I would have loved to have seen a properly licensed LEGO Barbasol can! The next module we have then captures the scene in the dining room – where we have Hammond eating ice cream as it begins to melt in the power outage. The little build for jelly on a plate is cute here – and I love how LEGO have used printed pieces on top of the ice cream 'tubs' to mimic what is inside. This is another fun little scene – and it is great to see so many iconic moments re-imagined and recreated within a single set. The last scene we have here is themed within Jurassic Park's emergency bunker – where Ian Malcolm fights a persistent feather brought on from his injuries at the hands of the Rex. I ADORE this section of the build – purely because there is so much detail to it. Different containers adorn the shelves in the background and the floor around where Ian rests – and there is even a ladder in the back. This is a great built with some fantastic attention to detail.
So, as you can tell – there is a lot going on with the builds of this set. There is also a lot to be said for the minifigures included too – with three returning characters, and three brand-new. Starting with the returning characters, we have Alan Grant and Ellie Sattler – and these characters are identical to their original appearances, apart from the fact that Ellie has a different and much more accurate hairpiece within this set. Everything else about these minifigures is the same – which is a shame, as Grant could have perhaps seen a new face print here. That said, they are still great minifigures – and an iconic part of Jurassic Park, so they are right at home in this set! Next up we have got Ian Malcolm – who returns in this set in a completely new format. Previously, Malcolm was available in normal attire in the Bricktober Jurassic World pack. Here, however, he appears in his iconic 'sexy' clothing – complete with unbuttoned shirt, exposed chest and sweat galore. I love how this minifigure brings us some great new facial expressions – and love the additional detail of the printed tourniquet on his leg. This captures his appearance from this scene perfectly. This appearance has become arguably as iconic as the film itself – so it is great seeing it recreated here!
Then, we have our brand-new characters. The first is the human antagonist for the Jurassic Park film – Dennis Nedry. He looks fantastic here – coming in his iconic yellow raincoat complete with his lego-fied ID badge and the Jurassic Park logo on the front of the jacket. I love how the facial expression here captures his slightly-crazed grin, with the alternate expression capturing the moment he realised he had made a mistake as Dilophosaurus venom hit him in the eyes. It'll be fun seeing what fans create with that alternate expression. Next up we have Jurassic Park's resident computer analysist – Ray Arnold. Ray comes complete in his long-print Jurassic Park coat, and includes his ID badge and the JP logo. Ray's legs are also dual-moulded here, so the white and black printing for the coat will wrap around the figure three-hundred and sixty degrees which is nice. He includes a calm facial expression and then a scared one, although he doesn't include a cigar in this LEGO version. Lastly, to round out the original Jurassic Park characters, we have the grandfather of the park itself – John Hammond. Hammond comes with a great new white safari-shirt print, and includes dual moulded arms to complete his short-sleeved look. He includes a single facial expression under his hat, which is the smile of a jovial businessman. He will also include his amber-tipped cane, to complete this iconic character's appearance. I'm excited we finally have a Hammond!
The set also includes a small display stand to place the minifigures on – complete with information about the T. rex, and a baby Velociraptor. This features the Jurassic World logo – with the box art also carrying the Jurassic World branding forwards instead of going fully Jurassic Park. It is great to see Universal continuing to support the 'Jurassic World' brand across varying platforms – as this is exactly the kind of growth this franchise needs.
So, what do you think of Jurassic Park: T .rex Rampage?
We here at Collect Jurassic were excited for a Visitor's Centre build – so when we saw the result, we were a little taken back at first. But, after taking some time to analyse the build, we really love it. It captures the iconic moments of Jurassic Park perfectly – and pays homage to so many different areas of this film within a single set which is fantastic. The T .rex has been synonymous with the Jurassic franchise since its birth – appearing on the logo and setting the tone of the franchise, so it makes sense for it to be incorporated in the biggest LEGO set ever in such a grandiose manner. As the lifestyle photographs show as well – LEGO have really focussed on making this a set for adult collectors and not necessarily children, and I think that is where this set's strengths really lie. This is going to be a beautiful culmination of the LEGO Jurassic collection – and will look great on any shelf or coffee table. We can't wait to pick this set up when it releases on July the 1st!
Available directly from LEGO Stores & shop.LEGO.com from July 1, 2019 (June 19, 2019 for LEGO VIP). US $249.99 – CA $299.99 – DE €249.99 – UK £219.99 – FR €249.99 – DK 1899DKK
*Euro pricing varies by country. Please visit shop.LEGO.com for regional pricing.