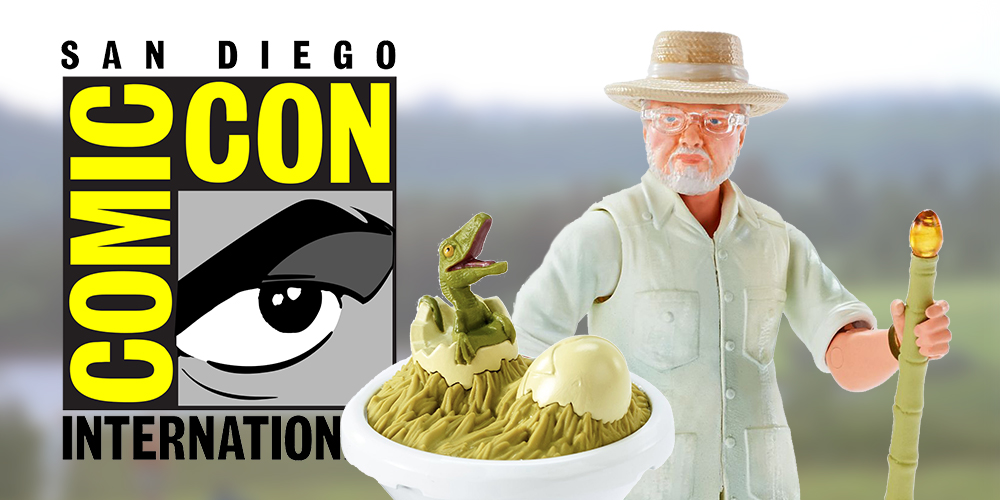 Fans of Jurassic Park will be waking up to some exciting news today – as the creator of Jurassic Park is finally recreated in action-figure format, twenty-six years after the release of the original film.
Fans have wanted John Hammond to join the Jurassic Park line-up ever since 1993, and Mattel have really hit it out the park with this initial version of the jovial visionary. John Hammond comes in at the 3 and ¾ Inch scale which other figures in the Jurassic World Legacy Line have done, and as such Hammond will include similar articulation to the pre-existing characters of Grant, Sattler, Malcolm and Muldoon. The character comes in his full original outfit – complete with long white safari shirt, white trousers and his signature straw hat with white stripe around it. The detail here looks phenomenal – with the paintwork on Hammond's beard, and the detailing in his glasses looking truly exceptional.
John Hammond will also come with two different accessories. The first accessory is his iconic amber-topped cane, complete with a great attention to detail with the mosquito placed firmly inside the amber on the end of Hammond's cane. The figure also includes a fantastic stand which features one dinosaur egg, and one partially hatched dinosaur egg with an adorable mould of a baby velociraptor breaking through. All of this will come packaged within an exclusive Jurassic Park commemorative case reflecting the original park gates – and fans will be able to 'open' the gates to reveal the figure on an extended version of the Legacy Collection card-back inside. This is all to capitalise on the premium detail with this figure – something which Mattel have done deliberately, as it will be their San Diego Comic Con exclusive for 2019.
Fans will only be able to get their hands on this limited edition set if they are attending SDCC in person – and they can pre-order it for collection here. That is where the excitement ends, unfortunately, as for many Jurassic Park fans across the world there will be no chance for them to get their hands on the original creator of the Park. This is not only incredibly unfortunate, but it feels like a real kick-in-the-teeth for many fans who have been longing after a John Hammond for years, and have been persisting through the international distribution woes which many have experienced. I want to be excited for this toy – but the fact that I will be unable to pick it up online, whilst attendees to the convention can take five home, is incredibly upsetting and will only serve to aggravate fans who have perhaps already been burnt by distribution woes in the past.
I really hope that fans who get their hands on this figure enjoy it – as it looks incredibly special and is a worthy convention exclusive. But, I hope that the negative reception this figure has seen will encourage Mattel to more openly engage with the distribution issues which have undoubtedly plagued the line. This line is titled JURASSIC WORLD – so it would be nice if more of the World could enjoy it.