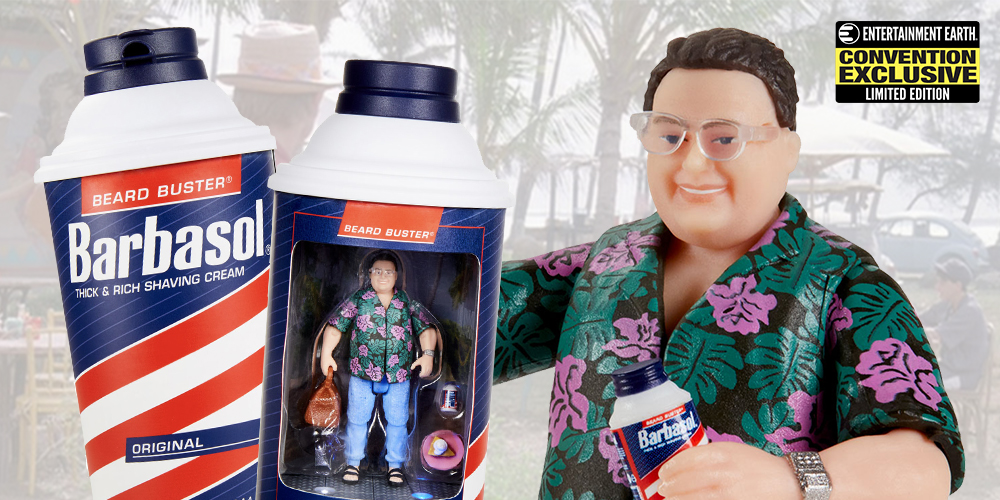 UPDATE: Entertainment Earth's preorders have sold out, but more chances are on the way to score this amazing set! Find out more here.
No need to check the vending machines, we've found Nedry! An all-new Mattel Jurassic Park figure is on the way in the form of the "Convention Exclusive" Barbasol Can & Dennis Nedry Action Figure — which includes not only a 3.75″ toy and its accessories but also an electric display hidden inside the can. Available to preorder now exclusively through Entertainment Earth, this incredible-looking collectible was more than likely originally meant as a San Diego Comic Con (SDCC for short) Exclusive similar to last year's John Hammond figure. Many conventions, including SDCC, were postponed or cancelled due to COVID-19 and have moved towards more virtual, online experiences. The silver lining here is that the fine folks at Entertainment Earth are able to offer many of the previously convention-only releases like Dennis Nedry to all collectors vs. only those able to physically attend an event. Now let's take a closer look this amazing set!
Dennis Nedry, Jurassic Park's would-be villain, is finally getting the 3.75″ action figure treatment  from Mattel following the previously announced 6-inch Amber Collection Nedry. While the bigger Amber Collection figure features the character in his iconic yellow rain jacket, the Convention Exclusive Dennis Nedry is instead from a similarly memorable scene at the beginning of the film. That would be the "secret" meeting between Lewis Dodgson and Nedry, where they scheme to smuggle embryo's out of Jurassic Park using a modified can of shaving cream. The scene includes several classic lines and moments that have been brilliantly immortalized in this set both in this Nedry figure and in the display can. Yes, Jurassic Park's iconic Barbasol can is being used here to the best of its abilities. While it looks picture-perfect from the outside with retro Barbasol branding, it truly is what's inside that counts.
In place of cryogenically-cooled embryo storage, the can twist's open to reveal a hidden window showing the 3.75″ Nedry and his accessories. As if that wasn't clever enough, LED lights in the base of the can illuminate the figure to create an awesome min-display case. Pressing on cap above the display is where the entire package really shines: all of Dennis Nedry's classic lines play from an electronic speaker inside! Everything from "Dodgson! Dodgson! We've got Dodgson here!" to "Ah, Ah, Ah! You didn't say the magic word!" is included here in this super-fun feature ("OK Dad" would've been another good one, but now we're just getting greedy). Aside from the nifty electronic display and sounds, the bottom of the Barbasol can also be pops off to access Nedry's figure directly. Don't forget, there is a toy included in this amazing release.
Now, it's been quite some time since a new 3.75″ human figure added Mattel's Jurassic toyline — the last time was SDCC last year in fact. After all this time, we at last have some new dino-bait and he's looking fantastic! Nedry's portly figure translates better than it ever did in the vintage 90's Kenner versions of the character, and his film-accuracy goes much further than his waistline. Dennis Nedry's tacky Hawaiian shirt, socks with sandles, and flashy watch are a few of the finer details on this excellent action figure. Wayne Knight's likeness is debatable, but with toys at this size and price point (more on that later) it's hard to get too picky. And when it comes to accessories, this exclusive doesn't disappoint. A very tiny Barbasol cryocan is includes in somewhat of a collectible-inception with the larger display can. Dodgson's bag o' cash meanwhile is a great nod to the movie scene, but the slice of pie is the true toy design genius on display here. Collectors can essentially recreate the moment Dennis Nedry shamelessly wipes  shaving cream from the Barbasol can onto a dessert tray while meeting with Dodgson. It's a brief but character-defining moment for Nedry and this feels like the perfect homage being included in this release. Mattel did their homework!
The entire set comes boxed in beautifully simple Jurassic Park branding for a premium collectible feel. However, the "Convention Exclusive" Barbasol Can & Dennis Nedry Action Figure will be up for preorder at only $19.99. Again this is an exclusive release through Entertainment Earth, and similar to their previous Convention exclusives one can expect Nedry to sell out relatively quick. Don't miss the boat on this one!
We're absolutely thrilled about this latest toy reveal for Mattel's Jurassic World and Jurassic Park toyline. After the recent news of the Legacy Collection Escape from Isla Nublar set, it seems we're ramping up for more exciting releases between now and the release of the next film, Jurassic World: Dominion, in 2021. Stay tuned to Collect Jurassic for the latest Jurassic toy and collecting news!