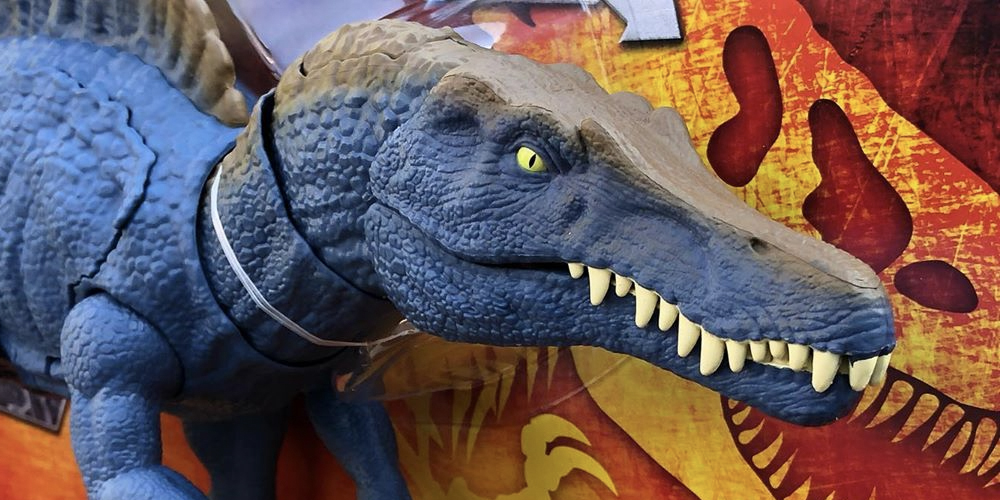 Please welcome our newest Collect Jurassic contributor, Austin!
We're already more than halfway through 2019, but we've still got plenty of toys to look forward to before the year comes to an end. In fact, this year we will see one of the most rare figures in the Mattel Jurassic World line, the Spinosaurus, making a comeback with a new look! Along with official press shots, we're able to take a much closer look at this upcoming release via Daniel Arevalo (Instagram & YouTube) who was lucky enough to receive the toy itself via a giveaway at San Diego Comic Con earlier this month.
The fearsome antagonist from Jurassic Park III returns in Battle Damage form, sporting an all new coloration and a unique Battle Damage feature never-before-seen in a Jurassic figure. Situated on the right side of the dinosaur is a large rubberized skin piece that folds down to reveal a massive sculpted ribcage, which can also be folded down to reveal even more Battle Damage. This is where things get interesting—pressing a button on the Spinosaurus' sail activates a spinning orb filled with liquid "blood". Quite a specialized application of Battle Damage, and the fact that the skin and bone pieces stay attached means kids (and collectors) won't be losing any of the figure's components.
The Spinosaurus also keeps its original "Extreme Chompin'" action feature from the initial release, allowing it to crunch on other figures with its massive jaws. While some fans have expressed disappointment that this figure doesn't possess the more film-accurate colors of its predecessor, we are very happy that the mold has not gone to waste, and that fans will soon be able to add this Spinosaurus to their collection!
The Battle Damage Spinosaurus is expected to release this October as a Walmart exclusive in the US for around $40. As always Collect Jurassic will keep you updated on its availability with both in-store sightings and online listings.