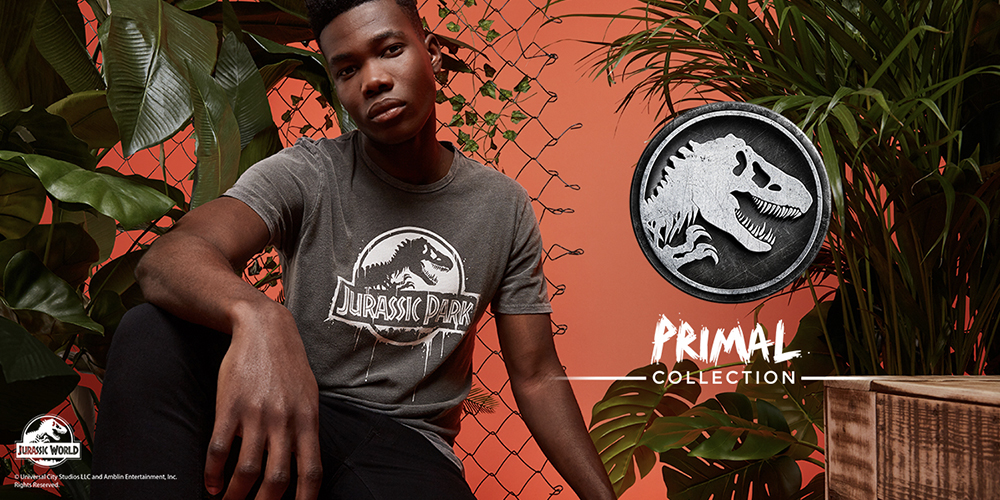 We're having a "Primal" week here in the Jurassic community! Following yesterday's exciting toy news, we're thrilled to unveil the all-new Jurassic Park Primal Collection that launched today at online retailer Zavvi. This exclusive line of clothing and wall art features dozens of uniquely designed items, each created by a passionate team focused on bringing the original Jurassic Park's aesthetic to life in this fresh yet ferocious collection. Just look at some of our favorite picks from the new line!
Of course, we love anything Jurassic Park related here on Collect Jurassic—but the variety of styles on display in the Primal Collection means there's something for everyone. Classic, retro and floral designs make up a varied clothing line that takes the Jurassic brand in new directions in terms of fashion. Zavvi designers Mark Bell, Dean Burgan and Suzie Lam, sat down with the Zavvi Blog to talk about how their personal creative approaches brought this new Jurassic Park collection life:
Mark: We are a team of designers, and each one of us has our own style. Dean took on the streetwear, taking famous scenes and making them into cool prints. We have added things like kanji and warning signs on some of them. My side was more illustrated style, and I went with an '80s vibe, using triangles and circles. Suzie was doing a lot of floral designs and tie-dye.
Dean: Mark and Suzie wanted to do more illustrative stuff, so I took the Photoshop route, and worked with the images we had to hand. I picked up on all the stuff I liked as a kid and was like how can I do this, make it into a t-shirt to bring back the nostalgia? I do stuff I would wear myself, or my friends would wear. Dino DNA and the park ranger t-shirt, they are subtle nods to the film.
Suzie: I have gone for a more playful approach, mixing florals with dinosaurs because I like the contrast between the harsh dinosaurs and softer elements. I have included tropical leaves which are trending at the moment, and played about with different shapes. I also like a lot of pink in my designs, so I have included that, it is something different for Jurassic Park.
Zavvi's launch of the Primal Collection is the latest event in year already filled with so much new Jurassic experiences and releases, yet their Jurassic Park-focused assortment has captured something truly special about our beloved franchise here on Collect Jurassic. Be sure to head over to us.zavvi.com to check out the entire collection—and as an added bonus to our community please enjoy 25% OFF your Primal Collection order with our exclusive promo code "collectjurassic"!