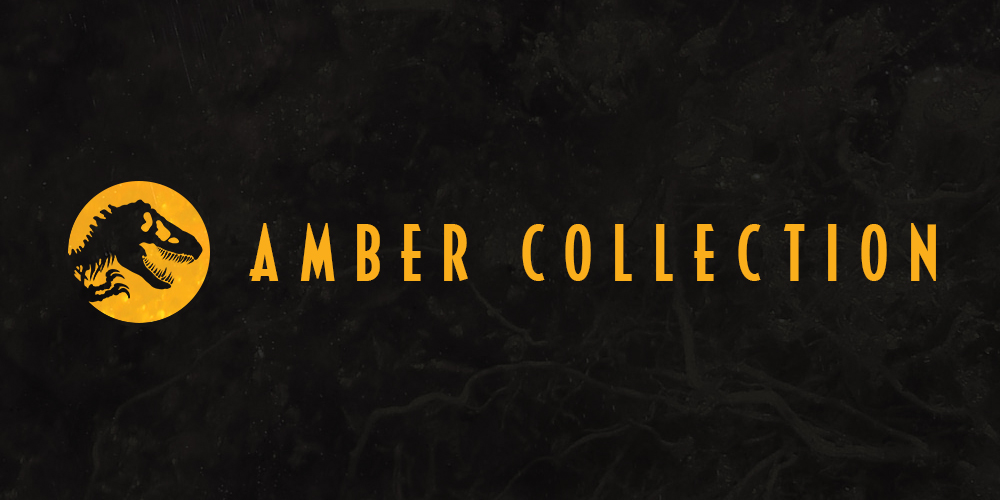 Since its SDCC debut, fans have been hungry for more details on Mattel's upcoming collector focused toyline: the Amber Collection. As we approach the first wave's October release, important details like the collection's packaging and future release plans have been absent from the picture⁠—until now! We're teaming up with our friends at Jurassic Outpost to kick off a Jurassic-size load of upcoming Mattel toy previews, starting with all-new images of the Amber Collection.
For toy lines successful enough to exceed their shelf life, various evolutions occur that reinvigorate the line and try to capture a wider audience.  Since its release in April 2018, Mattel's Jurassic World toy line has featured a core series of assortments in the 1/18th 3.75-inch scale.  There have been a few items that have fallen outside of that scale, such as the gigantic Super Colossal Tyrannosaurus Rex, and of course, any of the die-cast toys in the Matchbox line.  In Fall 2019, Mattel will be releasing the 6.5" Amber Collection via GameStop stores (preorder here).  It is the first dedicated and focused scale beyond 3.75". 
When Mattel first announced that they were working on a 6" line, many collectors became excited at the prospect of larger human and dinosaur figures.  As it stands, 6" is the mainstream scale across most modern action figure lines.  The 3.75" size, made famous by Star Wars action figures in the late 1970s, has continued to dwindle in the toy aisle over the past decade.  Jurassic World's core line has been an exception rather than a rule.  While 3.75" makes good sense for a world-building toy line made up of humans, dinosaurs, vehicles, and playsets, 6" allows for a larger canvas for which to create more detailed and collector-oriented pieces.  Many collectors strictly focus on the 6-7" range, and multitudes of companies exist that cater to them what with lines like Star Wars The Black Series, Marvel Legends, and DC Multiverse.  There are also higher-end offerings from companies such as Medicom, Bandai, Tamashii Nations, and Mezco.  As such, expanding into 6" territory is a natural progression for Mattel's Jurassic World toy line.
For over a year, we have been aware of the line we now know of as the Amber Collection.  We knew it would include figures of Dr. Ian Malcolm, Owen Grady, and Velociraptor Blue.  At San Diego Comic-Con 2019, we also became aware of a classic Jurassic Park Velociraptor.  We saw revised versions of Dr. Malcolm, Owen, and Blue.  Each of those figures had been streamlined and improved.  The figures come with amber-inspired display bases, which offer the raptors support similar to what was done with the Creative Beast Studio Beasts of the Mesozoic figures.  Dr. Malcolm and the Jurassic Park Velociraptor have been up for preorder on GameStop's website since July. 
We now have additional images of these figures, including packaged samples of Malcolm, the Jurassic Park Velociraptor, Blue, and a mockup of a packaged Owen.  Additionally, we now know that Velociraptor Charlie will be part of the Amber Collection.  While we have no confirmation at this time what wave Charlie will be a part of, it makes sense that she will feature in one of the line's earlier waves.  Based on the images, we can see that Charlie features a detailed color palette.  It may not match Jurassic World 100%, but it is far more detailed than the Attack Pack Velociraptor Charlie Mattel released this year.  Interestingly, Charlie also features the headset with the camera she wore in one of the film's key moments.  Based on these photos, it appears that Blue will not come with the headset.  If Mattel intends to round out the Raptor Squad with Velociraptors Delta and Echo, and I assume that they do, hopefully there will be a way to acquire an additional headset for Blue. 
This news of Velociraptor Echo in the Amber Collection is exciting for fans of the Jurassic World films and the 6.5" line.  The Raptor Squad is one of the most beloved elements of Jurassic World, and I can only imagine how great a completed squad might look on the shelf.  However, focusing too heavily on the raptors also comes at the expense of other dinosaurs.  While it stands to reason that Mattel could easily produce similarly-sized dinosaurs to fit this packaging footprint, such as Dilophosaurus, Stygimoloch, and Gallimimus, it also makes sense that they would want to capitalize on their raptor tooling investment.  Again, the idea of the Raptor Squad is cool, but I do hope we are not waiting too long for some of those other species.  In any case, it appears that the Amber Collection will be off to a strong start with several figures planned.  These figures will appeal to 6" collectors stepping into the Jurassic World toy line for the first time, expanding the brand into new territory and keeping the world Jurassic. 
Amber Collection's Jurassic Park Velociraptor and Ian Malcolm can be preordered now ahead of their October realease on Gamestop.com. And don't forget—the Jurassic toy hype continutes! As mentioned at the beginning of this article,  stay tuned to Collect Jurassic and Jurassic Outpost for even more exciting reveals soon. You won't want to miss what's flocking this way.
Note: This article features preliminary imagery that isn't always indicative of a finished product. Please remember a toy's design, packaging and even availability can change over the course of  production.