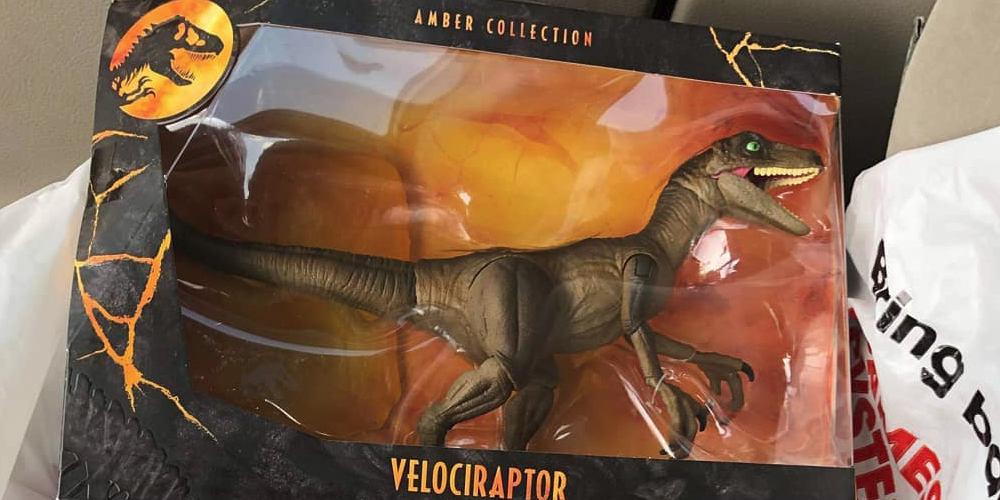 As we approach a busy holiday shopping season, we're hitting a relative "calm before the storm" in term of Jurassic toy and collectible releases. However, that doesn't mean we can't expect a few major drops in the next couple months—including Amber Collection, the much anticipated Legacy Collection Brachiosaurs and a few other surprises. Read on for more details on these latest sightings both here in the US and abroad:
Walmart-Exclusive Jurassic Park Jeep Matchbox Released
Mattel's Jurassic World and Jurassic Park Matchbox series has been increasingly harder to find at stores here in the US, but it would seem Walmart was able to secure an exclusive variant of the iconic Jurassic Park Jeep as part of it's Jeep Series. The #10 vehicle features utility boxes in place of the usual roll-cage, matching the Jeep that is used by Robert Muldoon and Ellie Sattler to rescue Ian Malcolm from the T-Rex. It's worth nothing that there is a mud-splattered version of this same Matchbox car that has yet to make its way to the US.
New Snap Squad Wave Hitting Malaysia
The always-adorable Snap Squad assortment that we first saw at Toy Fair is already on it's third wave of figures, at least overseas. While Amazon has released the first wave in the US via a collector's box, the second wave (Carnotaurus, Dilophosaurus, repaints of T-Rex and Indominus Rex) has never arrived stateside. Now we're already seeing the next wave of these big-eyed dinosaur figures pop in Malaysia, and it's bringing the Raptor Squad into the family. Along with a repacked Blue, this wave consists of Delta, Charlie and Echo Snap Squad figures featuring unique paint schemes that align with their Mattel 3.75″ counterparts. We hope that the entire Snap Squad lineup sees a wider release outside of the few select countries it's been found in so far. Image Credit: @johnsjurassicjourneys
Ahead Of Its October 6th Street Date, Brachiosaurus Spotted
Here on Collect Jurassic, we've been intensely covering the release of the Legacy Collection Brachiosaurus as it's made its way around the world before finally arriving in US stores early next month. This wait hasn't quite been 65 million years, but it's felt quite long for many Jurassic collectors. And now that we're so close the official release, it would seem some Target stores have mistakenly put out the immense figure on shelves only to frustrate would-be Brachiosaurus wranglers. The October 6th release date that's previously been reported is indeed a register-locked "street date", meaning the figure won't even ring up for sale when scanned during checkout. Even if you're lucky enough to find the figure in the wild ahead of its official release date, you'll have to wait a little bit longer to actually buy it. We're so close!
Image Credit: Billy Reed
Amber Collections Pre-Orders Shipping Now—But Only for In-Store Orders
It's here! Well, for some collector's anyway. The Amber Collection, Mattel's collectible-aimed Jurassic figure line, is starting to ship out to GameStop customers who preordered the figures in-store (where the entire line is exclusive in the US). If you preordered online—like the staff here at Collect Jurassic—you're out of luck, as those orders haven't shipped despite an estimated arrival date of September 20th. Still, we're getting our best look at the figures in-hand courtesy of the collector's who have managed to snag them already. And the reviews are in! The Amber Collection's Dr. Ian Malcolm and the Jurassic Park Velociraptor booth look to be gorgeously produced figures, living up to collectors' expectations when balanced against their affordable price-point. We expect all US preorders to begin shipping soon, both in-store and online. International release details for Amber Collection are forthcoming. Image Credit: @toysruskid904