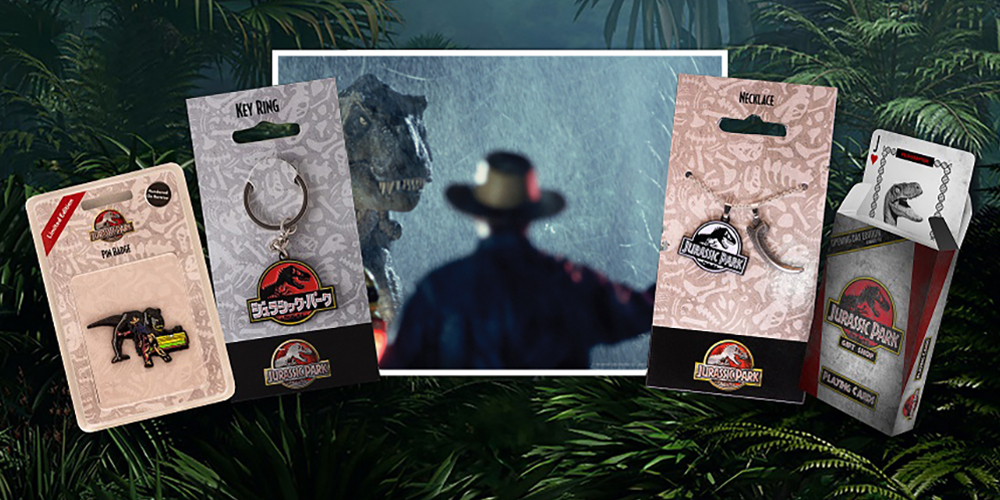 When we're not thinking about what new Mattel figures we would like to get our hands on, or what the dream LEGO Jurassic World set would be, we like to highlight other Jurassic products here on Collect Jurassic, too!
Fans of the content we produce will already be familiar with Fanattik, and the assortment of memorabilia which they have produced for both Jurassic Park and Jurassic World. Indeed, back in June of this year we wrote an article highlighting both their Silver Plated 'Opening Weekend' Ticket for Isla Nublar, alongside a look at their brand-new Jurassic World Blue Coin.  We think it is fair to say that they have been creating some of the most interesting and unique products across the couple of years they've had the Jurassic license – and today's article highlights a great item which brings some of those items together.
Just in time for Christmas, the Fanattik team have put together the 'Jurassic Park Collector's Box' – a set which brings together some of their most popular items for the reduced cost of 34.99.
The set includes their gorgeous T-Rex Breakout pin, which features Alan Grant, the T-Rex and the overturned Ford Explorer, as well as their great Playing Card set which is branded to be from the 'Jurassic Park Gift Shop' – in addition to a fantastic necklace and keyring, both of which are limited to 9,995 items worldwide.
Alongside this package of items which are available individually on the Fanattik website, you also get an additional print in this set. The print depicts the iconic T-Rex breakout and captures the moment where Grant is able to get Rexy's attention using the flare he takes from the Explorer.
Whilst this package isn't one for those of you who have followed Fanattik up until this point, it is one which is bound to be a great Christmas present for fans of the Jurassic franchise – including a nice mixture of items to scratch that nostalgia itch.
The set is currently available on Amazon and Argos (in the UK), and may pop up at other retailers in the near future, so keep your eyes peeled!
What do you think of the Collector's Box? Is this something you'll be picking up? Let us know in the comments below, and stay tuned to Collect Jurassic for all the latest Jurassic merchandise news!