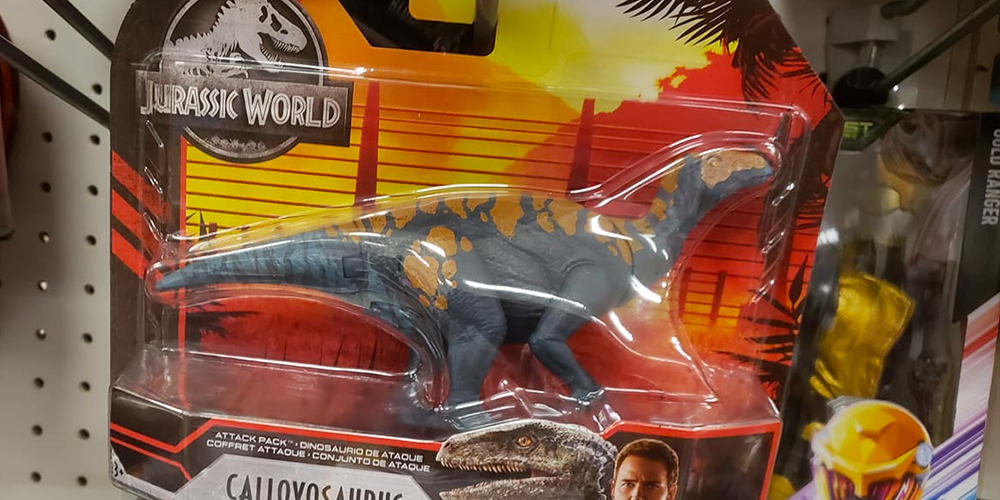 They're already here! That's right, with 2020 right around the corner we're now seeing the first wave of Primal Attack figures from Mattel hitting stores. Multiple new figures from the Attack Pack assortment have been spotted in US Target stores this week, with collectors identifying Callovosaurus, Ornitholestes, Dracorex and a repacked Herrasaurus as the first new toys to see a wide release. This is essentially how Dino Rivals hit last year: new Attack Pack figures hitting at the very end of 2018, with more assortments to follow going into 2019. Based on experience, we'll start seeing the new Primal Attack Sound Strikes, Massive Biters and more soon enough!
All-new sculpts on the Callovosaurus and Ornitholestes look fantastic, and the new paint scheme on the Dracorex is quite striking as well (we're seeing a lot of hilarious Mountain Dew comments thrown around, too). While the Herrasaurus in this wave is a straight re-release of the figure, all of these new Attack Packs are looking very fresh thanks to the new Primal Attack cardback artwork. We love the fences and sunny island vista vibes that this year's packaging is sporting, it seems Mattel is always looking to outdo themselves with each Jurassic World theme and Primal Attack is no exception!
If you're growing anxious awaiting all of the new Jurassic World toys coming our way, just remember that many of these new figures are already up for preorder on Entertainment Earth with Amazon preorders soon to follow. But for those of us who prefer to hunt the figures in store, it's clear a nationwide US release has only just begun! Stay tuned to Collect Jurassic for more new toy release updates as they come in, especially over on our  Instragram, Twitter, Facebook and YouTube pages.