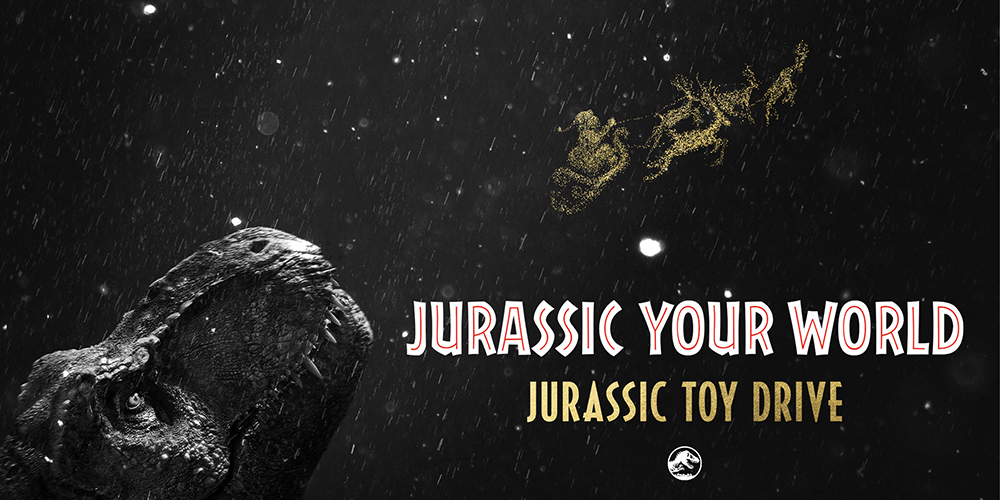 With the arrival of our Jurassic Gift Guide this week, the holidays are officially in full swing in the Jurassic community—and one of social media's biggest names is bringing something truly special to the life this winter season. You may know superfan Neemz (aka The Movie Poster Guy) from his wonderful Jurassic movie posters, which were previously featured on Collect Jurassic. He's kept quite busy since then, creating the Jurassic Your World page on Instagram which celebrates—you guessed it—the Jurassic fandom.
Enter the just-launched Jurassic Toy Drive, an amazing way for all Jurassic fans to help out those less fortunate during this special time of year. Using Fundly to gather donations from the Jurassic community, Neemz will be purchasing Mattel Jurassic World toys and gifting them to several different charities in his home-state of California. Read Neemz's own words below about this heart-warming effort:
Director Colin Trevorrow  said it best "There's a whole new generation out there dreaming of seeing dinosaurs with their own eyes…" 
I started Jurassic Your World last year with hopes to share my love of all things Jurassic with other fans. I never imagined it would grow so quickly. I see fans of all ages across the world share their favorite memories and hopes for the future of the franchise every day… it's really special! So many fans have HUGE collections of all kinds of Jurassic toys and I myself am an avid collector. Which got me thinking…
What about the kids who LOVE dinosaurs but don't have the chance to play and imagine with a Jurassic toy of their own? My most cherished memories as a kid were imagining a different world with my Jurassic Park toys from 1993. 
This year I wanted to do something special for the next generation of Jurassic fans who might have a dinosaur action figure on their wishlist but might not have the opportunity to get one. Let's change that. 
I am asking anyone out there to donate ANY dollar amount to go towards the purchase of a Mattel Jurassic World toy to be donated to The Orange County Rescue Mission, Toys For Tots, and even more charities and donation centers that accept toys for children. 
I am hoping to hit the goal by Friday, December 4th. If it goes over the goal then that's even better. Every cent will go towards a toy for kids ages 3 and older. 
This year has been hard for a lot of people, but it would mean the world to these kids to brighten their holiday with a little Jurassic love. Thank you for taking the time to read this, and thank you so very much if share this with others or make a donation. 
– Neemz (The Movie Poster Guy)
The Jurassic Toy Drive's goal of $2,000 should buy plenty of plastic dinosaur joy for many budding young collectors this holiday. Collect Jurassic is also pitching in and using part of the proceeds to purchase toy donations near Chicago—plus keep an eye on our social media channels (Instagram, Twitter, Facebook & YouTube) for a chance to win 2020's most coveted Jurassic toy release by donating to this wonderful cause. Please consider donating by clicking the button below. Happy holidays!