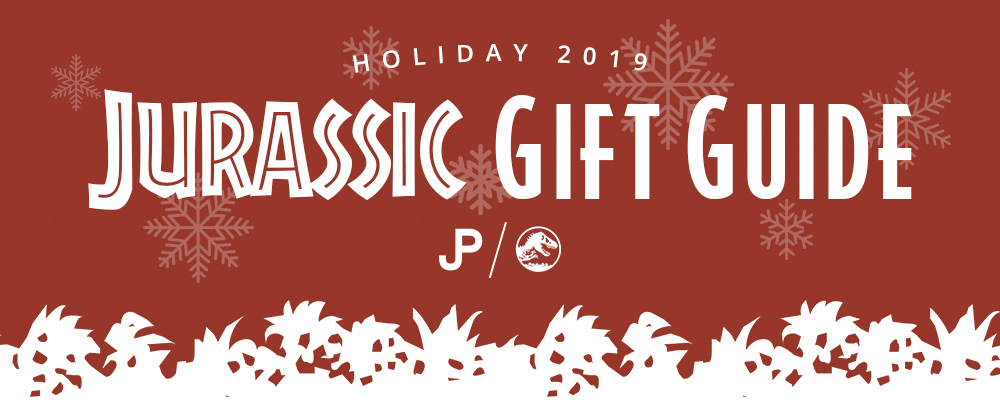 Tis' the season for official Jurassic Park and Jurassic World clothing, home decor, toys (of course) and so much more! We're ringing in the holidays here on Collect Jurassic with the launch this year's much-anticipated Jurassic Gift Guide. Whether you're simply in search of the perfect present for the Jurassic fan in your life or a die-hard collector looking for fresh ideas to add to your wishlist, our Jurassic Gift Guide has everyone covered. Holiday shoppers on a budget will find plenty of affordable Jurassic loot to give, as well as high-end collectibles for those who spare no expense — and everything in-between. We've organized a paddock-load of our favorite Jurassic-themed gifts into easy-to-shop categories, along with helpful links throughout the guide where featured items in the can be purchased. Scroll down to begin browsing the Jurassic Gift Guide. Happy Holiday hunting!
---


Seasonal Picks
What better way to kick off 'the most wonderful time of the year' than enjoying a Christmas tree adorned in Jurassic Park ornaments while keeping warm in a Jurassic Park holiday sweater? Hallmark's new electronic ornament features the first film's epic finale — and it plays the iconic John Williams theme! There's also a smaller T-Rex figurine ornament available through Target, and although it's not as detailed it still feels like the Rexy we know and love. Don't forget to fully embrace the yuletide wearing one of several Jurassic Park "ugly" sweaters, exclusively designed and sold by Zavvi.


This Year's Top Toys
If there's one thing we love to talk about on Collect Jurassic, its toys. And 2019 sure has a ton of incredible ones to choose from! While it was hard to narrow down Mattel and LEGO's excellent offerings into a curated Gift Guide assortment, show stopping releases like the Legacy Collection Brachiosaurus and Super Colossal Blue are easy to recommend. The just-released Battle Damage Spinosaurus is another figure that should be at the top most collector's list, with its gore-geous 3-stage Battle Damage play feature. For the more discerning collector, the 6-inch scale Amber Collection Ian Malcolm and Velociraptor offer more detail and articulation, as well as premium collectable packaging. We also love this year's LEGO Jurassic World series — builders of all ages will have a blast with the Dilophosaurus on the Loose set with its adorable miniature gift shop and hilarious drone-riding Owen Grady.


Official Apparel & Gear
Repping your favorite film franchise in style has never been easier thanks to a slew of new, official Jurassic clothing like the exclusive Primal Collection from Zavii. The collection launched earlier this year with tons of unique, on-trend designs, and Collect Jurassic readers can still get 25% off their Primal order with promo code "COLLECTJURASSIC". Complete the look with a snapback hat featuring the iconic logo, now you're Jurassic head to toe! Aside from wearables, there's also plenty of cool Jurassic gear available like a metal drink bottle, official phone cases for every modern smartphone release, and last but not least a hefty bottle opener shaped like Grant's raptor claw.


Decor to Deck The Halls
Some of the best Jurassic collectibles also make for great home decor pieces — especially when it comes to wall art. The super-affordable, three-dimensional Jurassic World logo makes an excellent centerpiece for your collection room. It even has molded foliage for those quintessential Jurassic vibes! Of course there's always plenty of beautiful art prints to choose from when it comes to more traditional wall decor, and these prints from Zavii are no exception with their stylish illustrations depicting classic movie moments. The Jurassic themed decor can extend beyond only walls with an all-in-one storage collection that is both functional and on-brand! Elsewhere in the home, a light-up Amber & T-Rex Lamp or Raptor Egg bobblehead double as great conversation starters for any Jurassic-adorned dwelling.


Budget-Conscious Finds
For those who are looking to spare some expense this holiday shopping season, there are still quite a few fun but wallet-friendly options when it comes to Jurassic merchandise. Reasonably priced toys like Mattel's Attack Pack figures feature some the toyline's most unique dinosaur specials — like our personal favorite the Mononykus. More affordable gifts include official keychains or a Jurassic Park themed deck of playing cards also make great stocking stuffers. The cardback's artwork alone makes them a highly sought after Jurassic collectible, never mind that they double as playing cards! Ring in 2020 with a bite-sized Jurassic World calendar filled with gorgeous key art from the film franchise, or keep would-be trespassers at bay with an Electrified Raptor Fence sign that's actually made of metal.

Big Spender Collectibles
When it comes to fans with John Hammond-sized wallets, there's no shortage of ways to spend money on high-end Jurassic collectibles. In fact, the park founder's Amber-topped cane is at the top of our list with its film-accurate recreation — right down to the iconic mosquito. Speaking of iconic, there's arguably nothing more recognizable from the films than the Jurassic Park gates themselves. This year they've been realize in both a wonderfully detailed statue from Factory Entertainment as well as in LEGO brick form (you can read all about LEGO's premiere Jurassic set in our review here). Lastly, no high-end Jurassic merchandise list is complete without mention of Chronicle Collectibles' excellent Jurassic Park and Jurassic World statues. Feast your eyes on their incredible Sick Triceratops and Baby Raptors pieces.

Jurassic Media & More
Video games, board games, books and of course the movies themselves — there's so many ways to enjoy the Jurassic franchise! If you haven't already heard, Frontier Development's Jurassic World Evolution has some incredible looking Jurassic Park-themed DLC on the way. There's no better time to jump in to this excellent park-management game than now, plus you'll need the base game to place the new content when it releases in early December. The Jurassic Park Danger! board game is perfect for those looking for gaming outside the digital realm, too. Even if it's aimed at kids, we can't help but love the new Jurassic World electronic Field Guide with its 39 different sounds. Fortunately, the official Jurassic Park coloring book is intended for adults and features tons of intricate illustrated scenes from the film to prove it. Its only appropriate that we end our final Gift Guide category on the most essential items of all: a collection of all 5 films in the Jurassic saga complete with all-new cover art and available in both Blu-ray and DVD formats.
---
We hope you enjoyed browsing our Holiday 2019 Jurassic Gift Guide — and perhaps discovered the perfect gift for yourself or another Jurassic-crazed collector! With retailers still gearing up for the busy shopping season, there's no doubt that some great Jurassic deals and promotions are also right around the corner. Stay tuned to Collect Jurassic for more updates on Black Friday sales and the can't-miss offers to come.